Sage 50 Training
Sage 50 Training is designed to equip you with the skills that you need to secure job a Bookkeeper or Account Assistant. Upon completion of you will have a good understanding of the financial process from Purchase and Sales Ledger to final trial balance. This Payroll Training will be provided on a one to one basis under the supervision of qualified Accountants using real company files. You will be using various accounting software during the training e.g. Sage 50, Quick Books, Xero and Excel. Training duration and price depends on the contents and number of software chosen by the candidate. At the end of this training program, you will be provided with a guaranteed work placement. Sage 50 Training covers all the areas of Bookkeeping, VAT, Journals and Management Accounts.
Sage 50 Training Contents
Processing customer and suppliers invoices
Allocating payments and receipts of cash and bank
Performing bank reconciliation
Preparing, reconciling and submitting the VAT return to HMRC
VAT schemes (Standard, Cash, Margin and Flat Rate)
Reconciliation of debtors and creditors control accounts
Reconciliation of VAT, PAYE, wages, directors and bank loans and suspense account
Posting journal entries such as accruals and prepayments
Processing depreciation journals, calculating depreciation using different methods
Preparing the Final Trial Balance
Internal control procedures for tangible fixed assets and cash
Summarising and analysing financial data to produce reports for management purposes
Preparing monthly and quarterly management accounts
Running the year end procedure in Sage 50 and QuickBooks
We help all of our trainees in preparing professional CV and job interviews and we Guarantee Work Placement. As we are also a recruitment firm and we have employers on our panel so you can be assured that placing you into a JOB will be a piece of cake for us.
We can train you in following areas:
Bookkeeping and VAT Returns
Payroll Processing and HMRC Submissions
Monthly Management Accounts
Final Accounts Preparation
Corporation Tax Returns
Self-Assessment Tax Returns
Audit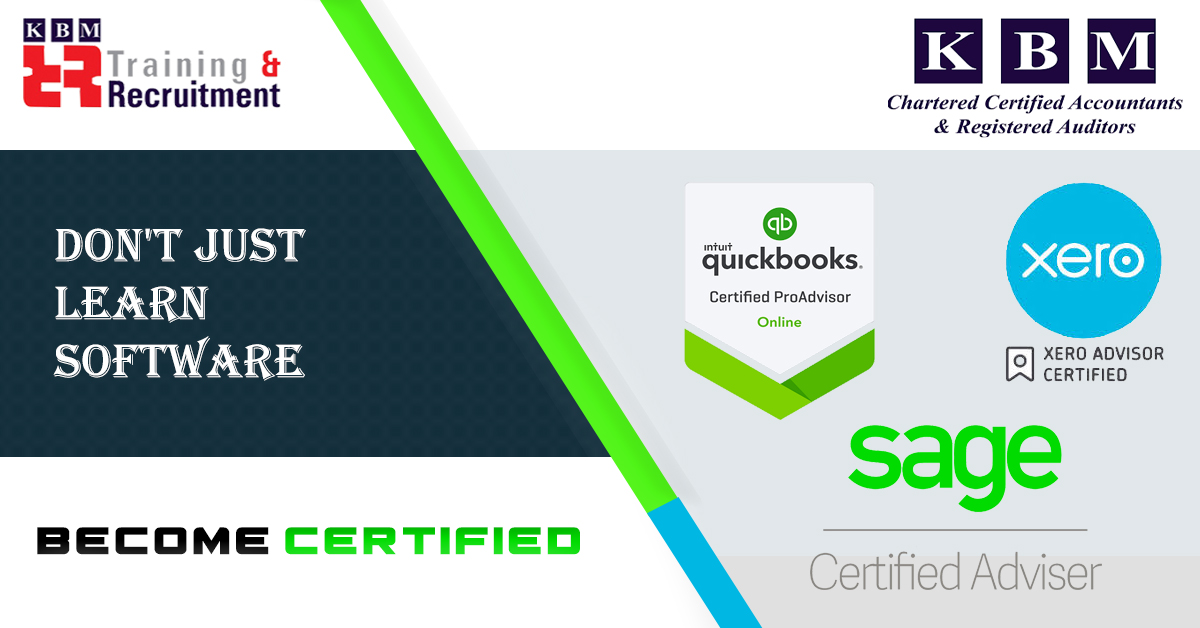 Join our Sage 50 training and become Sage Certified. Join the only courses developed directly with Sage UK to form their Accredited Qualification Programme. As a Sage Certified Training Provider, we have designed hands on practical accountancy training programs on Sage in-line with employers requirements. We have trained thousands of students over the past 30 years and helped them in getting certified.
Sage 50 training content is interactive with tasks, activities, videos and quizes.
Certification from Sage UK
Hands-on experience allows you to excel in the workplace.
You can complete Sage 50 training at a time and pace that suits your own lifestyle.
Sage 50 training is delivered by qualified accountants with years of experience in industry and practice environment. We train individuals on real businesses as we are a firm of chartered certified accountants. At the end of the Sage 50 training program we help all of our students in getting Sage Certified.
WHY KBM?
Matrix approved training with highest standards
Authorised and Regulated by Financial Conduct Authority – FCA
Firm of Chartered Certified Accountants & Registered Auditors
1 – 1 training sessions in our Accountancy firm with Qualified Accountants
Licensed software installed on your laptop
Approved by AAT, Oxford Cambridge and RSA
100% Practical training on Real Company Files
100% Flexible – You choose day, time and location of your own choice
Multiple locations – Park Royal, Canary Wharf, Barking, Elephant & Castle London, Birmingham
Regular performance reviews to identify learning gaps
Job market awareness sessions
Professional CV and Interview preparation
Guaranteed Work Placement
Reference to employers
Complete PER for ACCA / AAT / CIMA
We are experts in preparing the candidates for any level of accountancy Jobs. Our strong links with the top employers makes it easier for us to place our candidates in to Jobs straight after the training. In 2018 we successfully placed 849 candidates in accountancy jobs. You could be the next one.
So call now on 02089924506 and talk to one of our accountants.