Update to the AAT Accounting Syllabus 2022
AAT regularly reviews and updates their courses to stay up to date with what employers and the industry requires. The changes to the syllabus that are expected for AAT Accounting Qualifications will be In February 2022 where AAT will be introducing new versions of the bookkeeping and accounting qualifications.
AQ 2016 known as Accounting Qualification will change to Quals22 (Q2022) as the main subject title qualification. Below is further information on where changes from AQ 2016 is transitioning to Quals22.

The Basics
AQ2016
Throughout AATs qualifications, AQ2016 refers to the current foundation and advanced level bookkeeping qualifications, and AATs foundation, advanced and professional level accounting qualifications.
Quals22 (Q2022)
When this is shown it's referring to the new bookkeeping and accounting qualifications which will be launched on 1 February 2022.
Dates To Remember
31st January 2022
Final day you can register under AQ2016

1st February 2022
All registrations will be only for Quals22

30th June 2023
Final assessment you can take under AQ2016
If you're sitting a synoptic assessment, please ensure you plan this with relevant availability.
The Changes to Occur in AAT Syllabus
The key changes between AQ2016 and Quals22 are as follows:
Removing repetitive syllabus content.
Keeping an update of the material to enhance the current requirements of tasks in accountancy.
Every level has fewer assessments that are part of the qualification.
The names of AATs qualification
Removing of papers:
Level 2 - Using Accounting Software
Level 3 and Level 4 - Synoptic Assessment
Adding of papers:
Level 2 - The Business Environment
Level 3 - Business Awareness
Combining of papers:
Level 3 – Advanced Bookkeeping and Final Accounts Preparation have been combined into Final Accounting
Level 4 – Budgeting and Decision & Control have been combined into Advanced Management Accounting
Reasons for these changes
The repetition of topics that are covered at more than one level will be removed in order to complete the course more effectively. This will also aid in the student's ability to existing knowledge as they continue to progress in their course.
Students past academics will be considered in order for them to approach the fast track system, high achiever or not it will become important to ensure they do not face issues if the fast-track option takes place.
AQ 2016 Transition to Q2022
Below shows a table into how the names of AATs Accounting and short qualifications are changing. Please read the changes carefully.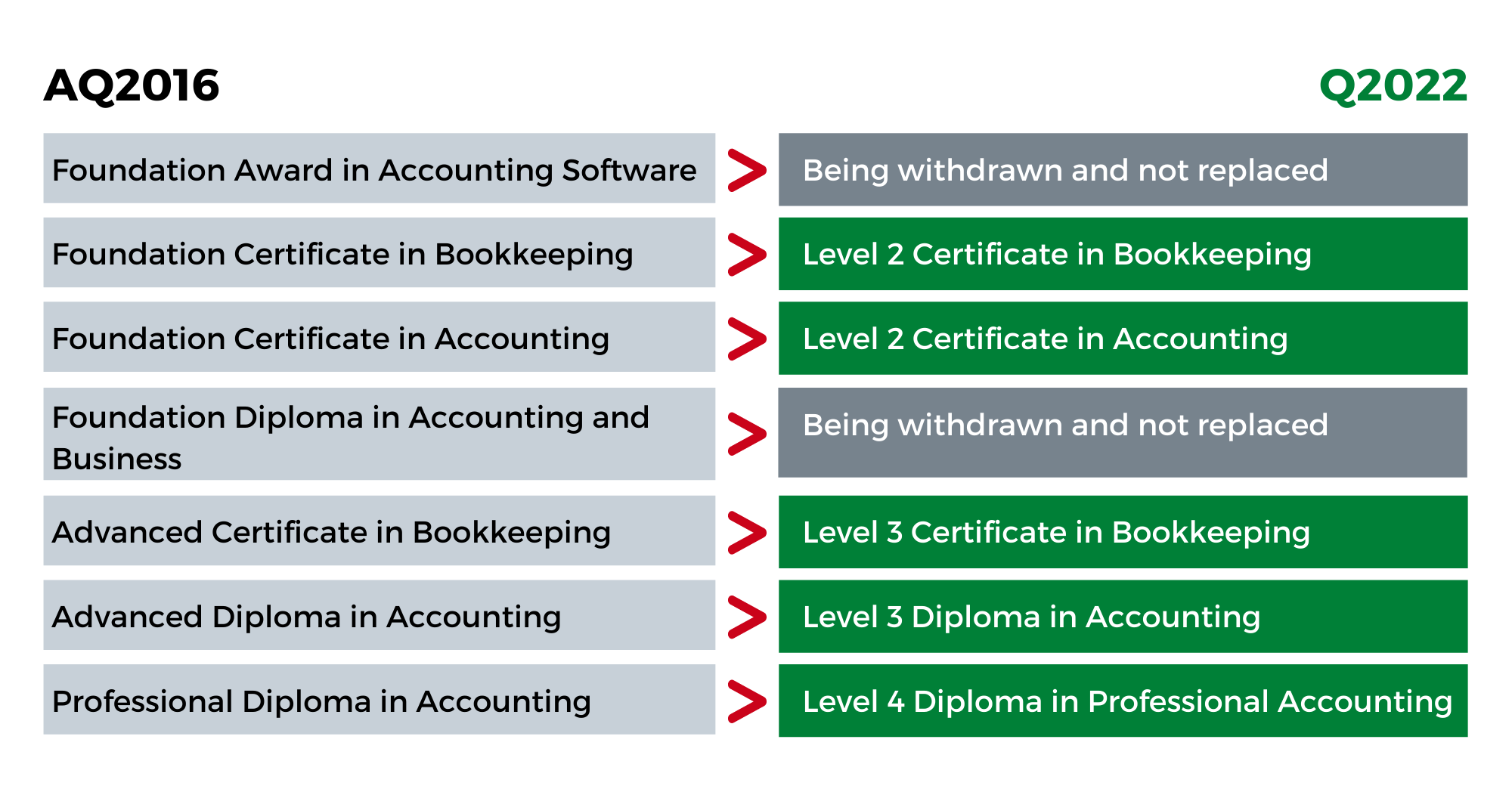 Another consideration is: Students who have gained a distinction level for their grades will be able to transfer over their results in certain units. The downside to that is they will lose 30% of their mark for that unit. This means that the student needs to consider whether they would want to resist their exams to get their grades up.
Qualification/Grading Level Changes
| | |
| --- | --- |
| Existing Qualification/Grading | Changes to Qualification/Grading |
| Foundations | Level 2 |
| Advanced | Level 3 |
| Professional | Level 4 |
| 70-79% | Pass |
| 80-89% | Merit |
| 90-100% | Distinction |
New phrases and terms
Lifetime Access
Registering will give you access to the chosen qualification for its lifetime. (4-5 years)
Registration Fee
A one-off fee that you pay so you can register for the qualification you wish to study.
Apprenticeships
The newly approved level 2 apprenticeship standard will start to become a more appealing AAT qualification for both students and employers. This is because the usual AAT qualification takes slightly longer for many students to complete.
The extra financial support and additional communication skills for apprentices will increase the number of employers choosing a Level 2 apprenticeship to support training for AAT under Quals22
The Membership Change
Currently, people pay annually for a membership to remain an AAT student, being able to access AAT's support, resources and sitting assessments. However, on the 1st of February 2022, this will change. When you register for a new qualification you will pay a one-off registration fee. This will give you access to the qualification for its lifetime which is usually four to five years.
Completing Your Qualification
You will have two options on how to complete your qualifications:
1. AQ2016, complete all the assessments by 30 June 2023.
2. Q2022, Register for this qualification and the AQ2016 will transfer to Q2022. There may be some exceptions. Refer to the Transitional arrangements AQ2016 to Q2022 document.
If you need help in preparing for the exams, we offer , AAT Level 3 and qualifications with 97% pass rate. Being a firm of Chartered Certified Accountants we also offer Work Experience to all the students who pursue AAT Qualifications with us. All of our training programs come with guaranteed work placement.
Please call us on 02089924506 or visit our website to book an .
Finally, if you have registered for 2016 qualifications but have not finished it yet. You will need to re-register and complete your qualification based on the key dates shown.